2021 - Bright colours in a dark month
—
Higham Hall, Cumbria
Very popular course. Bookings now being taken
BACK BY POPULAR DEMAND this short break art holiday gives artists the ideal opportunity to explore Derwent's Inktense blocks on Canson's exceptional high quality 'Moulin du Roy' 1005 cotton watercolour paper, (all provided) using an expressive use of colour withan expressive direction with this versatile and unique contemporary painting media.
Introduction
This short break studio based art holiday gives all artists the ideal opportunity to explore Derwent's Inktense blocks as never before. Because the main materials are provided (except those on the recommended 'what to bring' list below), this allows students to really 'go for it' by creating really expressive paintings and using the media to its full potential. With regular demonstrations, group and one to one individual learning and mentoring, this exciting course and using this great media will be a real eye opener to what's possible and is sure to inspire!
A little about Inktense
Derwent Inktense is a very different media and a popular one amongst artists of different levels of ability too. Portable, lightweight, versatile and inspirational are just some of the atributes this brand new media is described as being. With 72 different colours in the entire range which have been professionally introduced recently to the market by The Lake District company from Keswick 'Derwent', Inktense blocks allow the artist to both draw and paint with them at the same time with techniques akin to pastel painting and water media techniques within the same painting.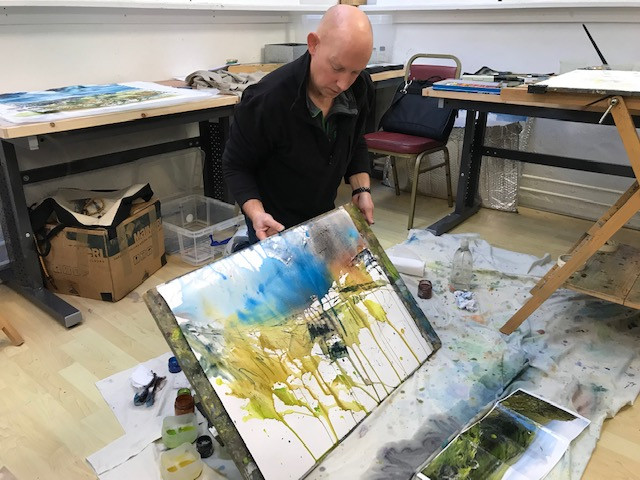 About the media and me!
Robert is a leading Associate Artist for Derwent, chosen for his creative and award winning art techniques usng select Derwent products which Include Inktense (amongst others) to create richly layered expressive paintings filled with colour, atmosphere and above all, a sence of place with an expressive edge. Working in the studion and outdoors (weather permitting) Robert will guide every student through each and every step using Derwent Inktense teaching you lots of creative skills with this exciting media to create your very own eye catching paintings.
Benefits
'This try before you buy' short break provides artists with more than just an insight into the world of Derwent Inktense creativity but allows you to use 24 of Derwents exciting Inktense colours and pencils (provided by Higham Hall for use during your workshop only) and 2 half imperial sheets of watercolour paper (21 x 15 inches each size) to get a real feel for the media without the initial capital outlay for materials when working on your own.

(Sorry, not suitable for pure beginners as the art techniques taught may be too advanced).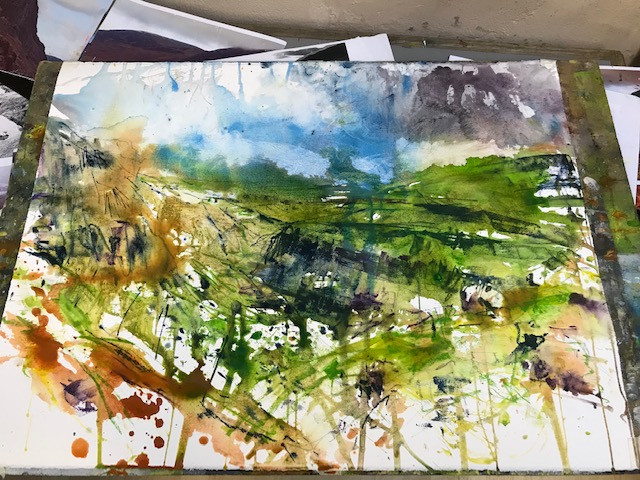 What's included
24 Derwent Inktense sticks (one set per student for use during the course)
Several sets of 24 Inktense coloured pencils (group share) for use during the course
Canson Moulin du Roy 'not' 300gsm (140lb) top quality watercolour paper (one half imperial sized sheet per student each day) for your studio painting studies*
Tea and coffee as light refreshments provided at regular breaks
Expert tuition from Robert - group and one to one on regular basis
Regular demonstrations, one to one and group tuition
Fully equipped modern studio on site at Higham Hall for painting days indoors
Full board with excellent food and drink
Afternoon and morning coffee breaks with light refreshments, cake and buscuits provided
Regular group, one to one and plenty of easy follow demonstrations each and every day
*If you require more than one 1/2 imperial sheet of watercolour paper per day you can purchase from Robert at discount prices £2.50 half sheet £5 full sheet

What you need to bring
Your favourite watercolour brushes - the larger the better
Masking medium and an old brush or similar to apply it
Kitchen roll or absorbant cloths
Masking tape, bulldog clips
Large plastic bag or similar to protect/cover your half imperial sized work when working outdoors
A medium size backpack in which to put your things when working outdoors
Good boots, hat, gloves, raincoat and warm clothing etc for working outdoors
A camera and note book
Scrap paper (A4 printer paper ideal)
A plastic pallete with deep wells to hold mixed colours or similar highly recommended
A sharp craft knife
Soft graphite stick and an eraser
Permanent white gouache - essential
Old jam jars (for clean water mixing) studio - plastic lightweight ones for working outdoors

Further information
Suitable for artists with some experience or those who wish to develop contemporary art techniques with a unique medium to give their work impact.
Class numbers restricted to 12 to ensure maximum learning potential for all students so early booking is highly recommended to avoid disappointment.

How to book
For further information and to book please contact the administration team on
Tel: 017687 76276
admin@highamhall.com
Office hours 09:00 to 17:00
Higham Hall, Bassenthwaite Lake, Cockermouth, Cumbria, CA13 9SH
www.highamhall.com

Further information
Highly recommended viewing of the following film to give students another insight into Roberts award winning Inktense techniques
https://www.youtube.com/watch?v=qgJVj3zos08&t=219s

At the end of the course you'll have the opportunity to buy Inktense products from Robert at discount prices (subject to availability) if you wish.

What you use at Higham Hall during this course is NOT PART OF THE FEE AND CANNOT BE TAKEN HOME. SORRY!


Costs
Residential : £350.00
Non residential : £249.00
Materials included : £0.00